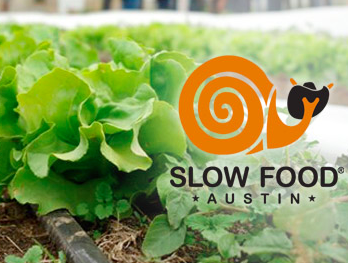 As some of you may know, we are back in Central Texas connecting with local farms and networking with other like minded individuals. It has been a busy week of visiting farms that has been fruitful and inspiring. I'll give you a recap of our farm visits (Dewberry Hills Farms and Richardson Farms) and all the great advice they gave us for people starting out later this week. We're continuing this week by attending two local events with Slow Food Austin.
Tonight we will be heading out to Barr Mansion to attend the Slow Money Austin / Slow Food Austin event. The event is going to be a fun evening of mixing, mingling and getting to know the people who are key to creating and supporting our local food system. Jim and Kay Richardson from Richardson Farms donated the pig that will be slow roasted by Jesse Griffiths of Dai Due. I'm looking forward to meeting some new people, making some good connections and eating some delicious food. Although, I'm stoked about the event, these types of things make me a little nervous for some reason. We visited Richardson Farms on Monday and Jim Richardson said that we should definitely make it out to this event. Looking forward to giving you guys an update as to how the event turned out and how there was nothing for me to get nervous about.

This weekend we'll be attending the Farm & Ranch Freedom Alliance 2013 Conference right here in our town of Bastrop. The even better part is that I was selected as one of two scholarship recipients by Slow Food Austin to attend the event. I'm honored to attend and can't wait to learn all that we can through the workshops touching on local legislation and food laws, GMO's, Water Planning and Policy, and so much more. The event will be at the Bastrop Convention Center, September 22 and 23.  Looking forward to sharing some new perspective and how it will personally affect us working towards our farm.
Wish us luck as we mix and mingle tonight.