On our journey around Italy we searched for places to find authentic Italian cuisine. This was one of those special days were we stepped back in time and experienced the art of slow food. Just outside of Sepino, Italy, there is a family farm that makes artisan cheeses and cured meats year around. They mainly make it and sell to neighbors or for their own enjoyment. This day they showed us how to make Caciocavallo [kah-choh-kuh-VAH-loh] cheese. It was a true work of art.
Caciocavallo is a stretched curd cheese made out of sheep's or cow's milk. It is made by kneading the curd while it's still hot, a process that makes the curd firm and elastic, and becomes quite hard as it ages. Caciocavallo earns its name, literally 'cheese on horseback', from the way pairs of gourd-shaped rounds are rope-bound and slung over a wooden board to drain and age. Caciocavallo is similar in taste to the aged Provolone cheese. Caciocavallo originates from Southern Italy and the Balkans.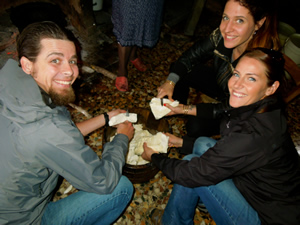 They used a wooden paddle to stir and stretch the cheese in hot water. Once the cheese was shaped and tied, it was placed in another bucket with brine to sit for 24 hrs.
This family was so kind and gracious. They opened up their home, to us and others. After we made cheese they gave us a tour of the farm, then we drank homemade wine, ate fresh cheeses and pastries for a couple of hours. It was a wonderful day to always be remembered. The Caciocavallo was absolutely like nothing I had ever tasted, it was mild, had a slightly salty flavor with a firm, smooth texture.  It was sooooo delicious!
When we were tasting all the different cheeses they had made, my little Romolo, was chowing down with a few ummmms! The older man said to me, "He eats so well." That makes this momma proud!