The journey continues! the DiLoreti's | food, farms & family is morphing into DiLoreti Family Farms!
After years of dreaming, travel and education… we have bought an old 25 acre farmstead in the mountains of Leicester, NC just 19 miles from downtown Asheville. We love it here. Every day we say, "It is so beautiful!" Our goal is to take what we have learned in Italy about Slow Food and Sustainable Agriculture to create Italian Inspired, Appalachian Grown products, as well as incorporate Agritourism.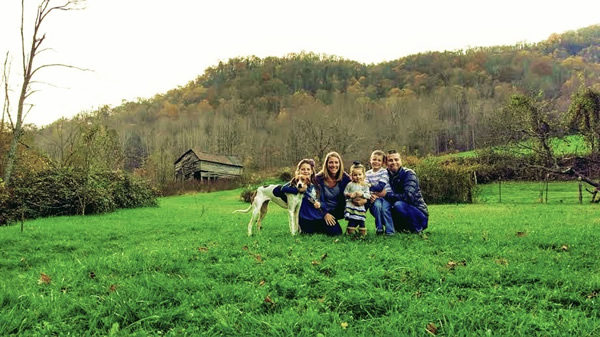 Our first order of business and one of our passions is Restoration. Whether it is remodeling homes, furniture or whatever else we can fix up, we both love to rebuild, make new, and create. Our property was an old farmstead at the end of North Turkey Creek Rd. It used to be active with tobacco and livestock, but when the farmer passed, it was left in disrepair. In time, we hope to bring it back to its former glory, to repair the barns, and have the root cellar filled again. Those before us worked so hard to build it and we hope to pay them respect.
In a dream world we would work on the farm full time. BUT since we live in reality, we are excited to also be transitioning into Real Estate here in Asheville. We have opened Heirloom Property Group at Keller Williams Professionals Realty and believe this will be a great fit for off farm income. Every house sold is another pig we can buy, a barn we can rebuild and another step closer to building a commercial kitchen on our property.
________________________________________________________________
Jason DiLoreti
Agent | Broker | REALTOR®
Heirloom Property Group | KW Professionals Realty
c. 828.777.7481
e. diloreti@kw.com
web. www.HeirloomPropertyGroup.com
o. 86 Asheland Ave.  Asheville, NC 28801
________________________________________________________________
Download My KW Mobile Property Search App
________________________________________________________________


How This all Began:

We started down this rabbit hole in February of 2013 when we put all of our stuff in storage and headed out with one way tickets to Italy. Our family backpacked across Italy and the United States to learn Slow Food by exploring working farms! Our time on each farm ranged from weeks to months, with us choosing specific farms based around a wide variety of agriculture, viticulture, salumi and cheese making, tourism and so much more.
Throughout our travels we have learned a ton about ourselves, the world around us, and have made many great friends. This was more than a vacation but a life changing adventure in all things Slow Food.
The goal driving our desire for knowledge was to have a working farm of our own, growing and creating Slow Food, and to gain the education to be directly influential and make a difference in the world that we live.
Return to Italy for University:
After our backpacking trip around Italy, we decided to return to Italy for another year. This time I, Jason, attended the University of Gastronomic Sciences in Pollenzo, Italy where I received a Master's in Food Culture and Communications with a focus on High Quality Products. We lived in Bra, Italy where we delved into Italian life. The kids attended Italian elementary school and we took every opportunity to explore the Langue and Roero (prized Italian wine regions), shop the local markets, and soak in the Italian culture.
For those who are interested, my studies merged a wide range of subjects in an attempt to understand and communicate the complex world of food and beverage. Some of the products that we took an in-depth look into included wine, beer, spirits, cheese, olive oil, cured meats, honey, chocolate, coffee, and more. I met with companies, producers, and restauranteurs of all types, all over Italy and the EU, to experience the behind the scenes of their successful enterprises. In order to bridge the gap between my studies in Italy and the US, I did my Master's Thesis on Agritourism, specifically on how we can use the Italian model to help preserve small family farms and promote rural development. 
Now deemed as a Gastronome, I have an in-depth understanding of the entire web of food production, from agriculture to processing to distribution, paying particular attention to environmental and sustainability issues. In particular, I have a keen interest in the relationships within food, wine, and agricultural tourism, high-quality product marketing, and the promotion of regional food traditions.
Click for more information about the University of Gastronomic Sciences.
The Why:
In the US, people have become completely detached from where their food comes from and many times, don't know how to cook with raw whole foods and ingredients. That detachment has given many people a skewed perspective of what food actually is. Fast food and prepackaged foods are the norm. Cheap "food like" products, processed foods, the Industrial System of feedlots and Concentrated Animal Feeding Operations (CAFO), and foods containing Genetically Modified ingredients (GMO's) are causing destructive health and social problems in our society! Think about all the issues of obesity, heart disease and diabetes we are facing, even among our children. There is so much cheap garbage for us to eat, and Americans eat and eat and eat, yet are starving nutritionally. Our ability to produce large amounts of seemingly cheap food has incurred a greater cost to our health and wellness.
So for us, it is more than just learning how to cook better or how to make the most amazing risotto, although those are great things to strive for. It is about Slow Food, preserving food culture and biodiversity, and putting THESE words into action. This is not an elitist food culture thing, but a getting back to the basics with simple healthy living.  We want to help change the future by playing an active part. We are trying to reclaim something that has been lost, not on our own, but with our community, both online and those next door, and with our local Asheville folks. We hope you will join us where you are!
This has been, and is, an amazing process for us. If you have any questions or want my information about our farm, feel free to ask.
Jason & Jill DiLoreti
PS – It's always good to laugh at yourself. Here's a hilarious video clip from Portlandia. Enjoy!
Additional Information:
What is Slow Food?
Slow Food is an organization that has local chapters in the US and internationally. It is a way of thinking about food and how it relates to us. In essence, it is the support of good, clean and fair food. Slow Food USA sums it up best below.
"GOOD: The word good can mean a lot of things to a lot of people. For Slow Food, the idea of good means enjoying delicious food created with care from healthy plants and animals. The pleasures of good food can also help to build community and celebrate culture and regional diversity.
CLEAN: When we talk about clean food, we are talking about nutritious food that is as good for the planet as it is for our bodies. It is grown and harvested with methods that have a positive impact on our local ecosystems and promotes biodiversity.
FAIR: We believe that food is a universal right. Food that is fair should be accessible to all, regardless of income, and produced by people who are treated with dignity and justly compensated for their labor."
Who is WWOOF?
WWOOF Italia and WWOOF USA are the organizations that enabled us to partner with multiple farms. WWOOF stands for Willing Workers On Organic Farms and is an organization in over 50 countries that connects volunteers to farm stays (Visit the WWOOF International site). In return for volunteer help, WWOOF hosts offer food, accommodation and opportunities to learn about organic lifestyles and farming.