---
My journey of baking in another country has honestly been very challenging. Between the different types of flours, butter, chemical leavenings, and not being able to find the portions of what I am used to. It has been a struggle. I write this not as a complaint, but to relate. As a baker, my personal recipes have been somewhat perfected, they are scaled and I know the outcome of what I desire to create. But when you use new ingredients it is a whole different ballgame! It can be very discouraging. I write this to say, hang in there. It gets easier. Keep trying. Keep failing, and eventually, you will succeed. You will find the right ingredients and substitutions. It does take time.
So in my quest to make gingerbread dough, I needed to find molasses. It is the main key ingredient. I knew I was not able to find it at my local grocery store. Of course, I could buy it online, but I wanted to make gingerbread cookies that day with my kids. I experimented and googled a bit and here is a simple substitute. The Italian ingredients are listed for anyone faced with this same molasses shortage here in Italy. I hope this small hack brightens someone's day!
---
How to make a molasses substitute using four ingredients
---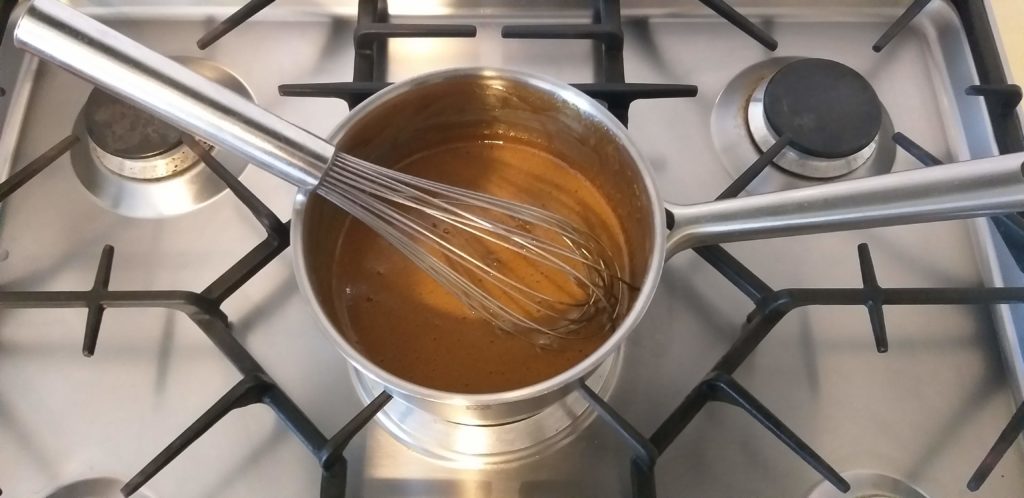 | | |
| --- | --- |
| Ingredients | Metric |
| dark brown sugar or zucchero di canna integrale | 500 g |
| water | 180 ml |
| cream of tarter or cremor tartaro | 2 g |
| fresh lemon juice or succo di limone | 10 g |
simple steps:
First

In a saucepan, over medium heat, add the ingredients together.

Then

Once the sugar dissolves, turn the heat to low and simmer for about 5 minutes.

Lastly

Stir constantly so the mixture doesn't stick to the bottom of the saucepan. As it cools it will thicken.
Tidbit: The great thing about this molasses substitute is it lasts up to 4 months in an airtight container at room temperature. It will harden. Warm it back up to dissolve the sugar. It can replace any molasses quantity, equally in a recipe!
Happy baking y'all!