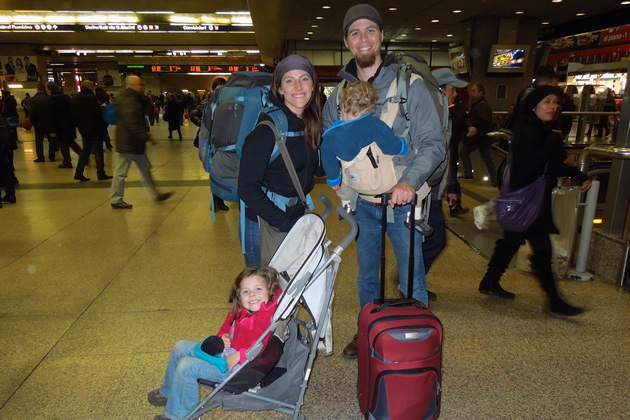 We boarded a plane in Austin, Texas for our 24 hour journey to Rome, Italy. Two backpacks packed to the brim, one rolley suitcase, an umbrella stroller and an ERGObaby Baby Carrier
is what we brought for our one year journey. (More in depth packing post later)
The kids did exceptionally well for the length of time traveled. Romolo is 2 and Stella is 4. We boarded 3 planes, one train and a taxi to find our spot with friends in Rome. But lets go back to the flights…..because traveling with children on airplanes can be so much fun……………and stressful!
Here are some of the highlights to our plane ride.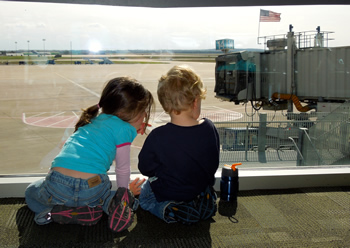 Beef and Mashed Potatoes:  The food on the flight, as Stella stated, was horrible. =) To be expected, it was just funny coming from her mouth. Bringing snacks was key to keeping the kids happy and full. TSA allowed us to bring apples, oranges, dried mangos, prunes, cliff bars, and pistachios.  I was so thrilled they didn't take the kids snacks!
Sleeping On the Plane: Stella slept about 7 hours and did awesome! Romolo on the other hand struggled a bit around sleeping time. He cried for about 45 minutes. I could just see the evil stares from the other passengers, but I kept trying to find out what he needed to settle him. Come to find out he was confused on where to sleep. At one point I said, "night night" and he said to me, "BED?!?!?" Poor baby didn't know where to sleep. The ERGObaby Baby Carrier
 was really helpful in getting him to sleep, then he was fine and slept in his chair for the rest of the flight.
Oh…. I Thought YOU Packed a Pull-up: Another fine moment, Jason was in charge of packing all of Rums stuff. He is potty trained during the day and only needs a pull-up for sleeping times. In the mad rush of packing and getting out of the house that morning, Jason forgot to pack a pull-up for the night on the plane ride. Oh my goodness I told him he was fired. The stewardess informed me that they don't supply them anymore, but she was nice and found another mother who had an extra one to lend.  That was a godsend.
In the end, the tired and exhausted DiLoret's made it to Rome safe and sound. We couldn't have been more proud of our kids for how well they behaved with such a long travel day. Time to conquer, or be conquered by, jet lag!
These are the items that made our international flight with children enjoyable!
A Variety of Snacks!
iPad with books, games and interactive learning programs.
A good attitude and as much patience as you can muster when your child is screaming at the top of his lungs.
Extra change of clothes.
A small toiletry bag to freshen up and brush your teeth after a long flight.
Simple paper and pen.
Kids Water Bottles (watch out, Rum's milk got pressurized and soaked him when we opened it, thus the change of clothes really came in handy!)
The Maclaren Volo Stroller and ERGObaby Baby Carrier! This was great with transporting kids, bags and snacks in the airports, especially when you needed to run! The ERGObaby Baby Carrier by far was the best choice that allowed us movement and use of both hands in busy airports and planes.
One thing we definitely didn't need was the kids backpacks. We had one for each of them with toys for them to play with. In the end, we barely took them out, if at all, and then had to carry their bags around. The kids backpacks are still great to have here with us and are getting use now that we are at our destination, but next time we'll make sure to pack them away in our larger luggage.